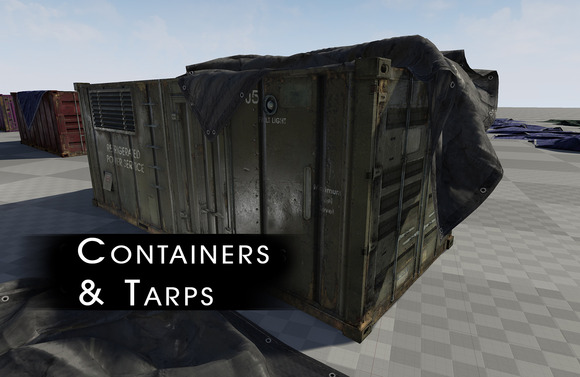 More Screenshots →
Stock Graphic >> 3D Render - Game Film Containers Tarps 227774
by PurePolygons @ CreativeMarket
File Size: 295.67 MB; Dimensions: 2048 x 2048 px.
High Quality Shipping Containers and Tarps for all kinds of Media
Can be used in any 3D software for any type of media. Movies, games, VR simulation, animations, etc.
Includes Normals for both Max and Maya.
Example Video (Unreal Engine)
- https://www.youtube.com/watch?v=86y-eFNrJj4&feature=youtu.be
- (Barrels Not Included)
- Purchase the Unreal Engine Asset Version
https://www.unrealengine.com/content/28fcecd2d8de461db7d3c5a847f9f76b
This pack has been meticulously hand crafted to suit any and all of your needs when it comes to commonly used Industrial Props such as shipping containers and tarp covers . All textures have been created using High Poly baking techniques within maya and Zbrush to create the most realistic textures possible.
There are both closed/optimized shipping containers that players cannot enter and Modular open shipping containers to be used however you like. This allows content creators to very simply place pre-made closed containers anywhere in their scene for fast art populating, as well as hand placing modular pieces to precisely fit their needs.
Modular Shipping Containers
- 4 Container Shells
- 2 Container Doors (1 left, 1 right)
- 1 Container Shell cap
- 1 Decal Sheet included with logos/signs/numbers/details
Closed Shipping Containers
- 7 Static Meshes of different closed shipping containers
Cloth Tarps
- 9 Tarps to be placed on the ground
- 5 Tarps to be placed on Shipping Containers
Technical Description
- 28 Static Meshes
- 54 Texture Files
- Range of Tris (40 - 4500)
- Average Tris (Pack Average 400 Tri's)
- Texture Sizes - Standard Texture size of 2048x2048 and some smaller texture of 1024x1024 and 1024x512
- Texture Types ĘC (Diffuse, Roughness, Specular, Normal, Height, Color Mask)
Formats
Models
- .mb (Maya 2014)
- .fbx
- .obj
Textures
- .tga
- .jpg
Keywords: shipping, container, cargo, box, crate, tarp, cloth, industrial, prop, jacob, norris, pure, polygons, purepolygons, low, high, game, film, cover, canopy.