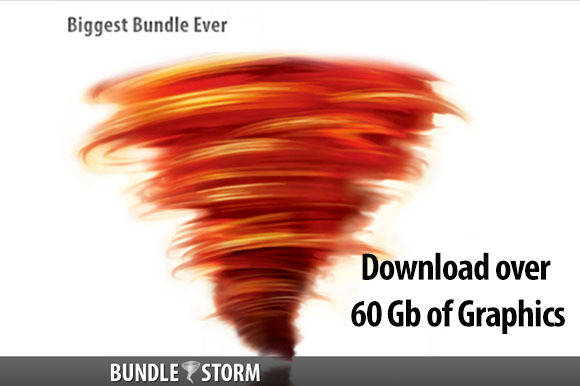 More Screenshots →
Stock Graphic - The Bundle of Bundles Over 60 Gb 52121
by GfxTookit @ CreativeMarket
File Size: 0.35 KB; Requirements: Adobe CS1+.
*****************************************************
Please visit this page to see all resources.
http://bundlestorm.com
*****************************************************
There are bundles and there are bundles. And then, well, then there are bundles of bundles.
Confused yet? Don't be. Just know that this is one of the biggest bundle ever!
With literally thousands of high-quality elements for creative designers, this Bundle Storm pretty much has it all!
Stock photos! Vector images! Backgrounds! Patterns! Themes! Gradients! Actions! Icons! Buttons! Infographics! Why, there's even tools to quickly create your own mascot!
Yes, this ginormous collection of tools is sure to impress even the most seasoned of Web designers.
+++++++++++++++++++++
Bundle Storm Highlights.
+++++++++++++++++++++
30+ Different Web Design Bundles
This bundle to end all bundles is pretty much going to set you up for life! With your purchase of this bundle, you'll get over 30 different bundles of fantastic Web Design resources. That's a literal army of tools including textures, gradients, vector files, Photoshop actions, and more!
--------------------------------
Thousands of Elements
Each of the 30+ bundles contains dozens, hundreds or even thousands of incredibly useful resources for creative designers. Your biggest problem with this Super Mega Bundle will be deciding which ones to use first! That, and pulling yourself away so you can get some sleep.
--------------------------------
1800+ Isolated Stock Photos
This royalty-free collection of 1,892 isolated stock images contains ready-to-use photos of an incredibly huge range of products from staplers to colored pencils to magnifying glasses. Image sizes clock in at 7340x4560 pixels and come in .JPG format.
--------------------------------
4500+ High-Res Textures and Patterns
Never worry about finding the perfect texture again! This bundle includes a number of texture and pattern bundles totaling well over 3,000 elements! These royalty-free textures include everything you can think of from marble to metal to water. You'll even get a number of high-quality flower stock images to easily use as background patterns for your website. Image size are 3488X2616 px, 4288x2848 px or 7360x4912 px and come in .JPG format.
--------------------------------
11,000+ Photoshop Gradients
If you can come up with a color that's not in this mega collection then, well. you've got waaaay too much time on your hands! This set of over 11,000 royalty-free Photoshop gradients are a breeze to use and perfect for Web buttons, backgrounds, posters and more.
--------------------------------
900+ Vector Files
With two sets of royalty-free vector files, the Design World is your oyster! Dig through a ton of unique shapes and categories like arrows, pointers, diamonds, foliage, sunbursts, ornaments and more. Includes original .EPS and .AI files.
--------------------------------
6 Powerful Photoshop Actions
Stop wasting time repeating yourself! Let Photoshop's actions capture your movements and let you repeat them with a simple button click. This set of 6 royalty-free actions are the perfect addition to your design toolbox.
--------------------------------
Over 850 High-Quality Vectors
In 4 killer bundles, you'll get a slew (897 to be exact) of professional vector graphics from Graphstock. It's a fabulous mix of styles and categories, brought to you in some quality illustrations. They're all royalty free and come in .EPS and .AI file formats, with some additionally provided as .PSD and .PNG files.
--------------------------------
200+ Custom Photoshop Shapes
When you need something a little bit different, this bundle does the trick. Get 222 royalty-free Photoshop custom shapes including religious symbols, skulls, crosses, shields, warnings, and more.
--------------------------------
Whip up Websites in a Pinch
With the 10 Photoshop PSD layouts in this bundle, you can put together a great looking website with just a few clicks. Using the original .PSD files, it couldn't be easier to adjust these layouts to your specific needs.
--------------------------------
300+ Vector Icons
If you're looking for a real unique way to express elements of your site or application, this bundle is perfect for you! With a number of unique vector icon sets, you can make your product truly stand out. Choose from sketchy icons, vector outlined ones, minimalist glyphs, symbols, and more, as these royalty free bundles cover every category imaginable from ecommerce to utilities to trees! Various file formats are included such as .EPS, .AI, .PNG, .CSH, .PSD versions, so you can adjust the size, shape, detail, etc. of any of these.
--------------------------------
2 Unique UI Kits
These 2 sets are perfect for creating website or app user interfaces. Each features an assortment of the most popular UI elements such as buttons, nav bars, profiles, media, image galleries and more. Everything comes in a clearly labeled, easy-to-use layered PSD file, so you'll have no issues pulling out and modifying any pieces you're interested in using. Together, these sets include 675 UI elements!
--------------------------------
Create Your Own Infographics
With these entertaining and informative graphic elements, you can put together your own unique Infographic to spread the word about your cause or website. Choose from 170 different colorful graphics all delivered in .AI files for easy editing or adjusting.
--------------------------------
5,500+ High-Quality Stock Photos
In need of a quick photo to fill a background or round out a contest page? Whatever your need, no doubt you'll find the right image in one of this incredible sets of stock photography. That's 4 different bundles of stock photos totalling more than 5,500 total photos! Search through hi-res images of people, plants, animals, food, vehicles, water, weather and loads more. There are even dozens of isolated fruit photos!
--------------------------------
1,300+ Gorgeous Website Backgrounds
All sorts of fantastic artwork can make up website backgrounds, wallpapers, applications and more. This group of background graphics really takes the cake. Yes, even a sharp photo of a cake will make a splendid background! From artistic fractal graphics backgrounds to seamless vector files to hi-res Bokeh ones, these background sizes range from 2500x2500 pixels to 4000x3000 pixels, and come in .AI, .EPS, .PNG, .JPG formats.
--------------------------------
300 Incredible Photoshop Layer Styles
It's simple to make a variety of incredibly cool effects using Photoshop. And with this bundle, you can go ahead and add such neat features as drop shadows or strokes with just the click of your mouse!
--------------------------------
1,000 Illustrator Color Swatches
Like playing around with colors? This bundle contains a whopping 1,000 different color swatches to choose from, as you create a plethora of colorful designs in Illustrator.
--------------------------------
40,000 Photoshop Color Gradients
If you prefer to use gradients instead of flat colors, you may want to sit down for this one. Whether you're using gradients for your website background or for printed materials, you can pick from 40,000 different Photoshop gradients. Sounds like somebody's gonna need a bigger artistic toolbox¡­
--------------------------------
150+ Hand-Drawn Arrows
Sometimes you want to add a bit of flair or creativity to even your most basic of design elements. Like, say an arrow. This set of 160 royalty-free, call-to-action arrows will let you get right to the point.
--------------------------------
40 Colorful Buttons
Every user likes to click things, especially buttons. The neater the button, the faster the click! With this collection of highly colorful Web Buttons in a variety of shapes and sizes, you can easily catch your users' eyes with a single graphic element. Includes original .PSD file, so these buttons are simple to change up and customize as you see fit.
--------------------------------
6 High-Quality WordPress Themes
Get a great jump start on designing your own WordPress theme. These 6 royalty-free themes can turn a blah blog into a bodacious one!
--------------------------------
Mascot Creation Kit
You may never have so much fun designing as you will with this 60-piece mascot creation kit. Mix and match dozens of colourful body parts to create your very own cartoony mascot. Original .PSD files are included for simple customization.
License
All the art from www.bundlestorm.com is royalty free and can be used for commercial and personal use. If you have any questions about these products, please don¡ät hesitate to send us an email.
Commercial License Agreement
This non-exclusive license grants you certain rights to use the product and is not an agreement for sale of the art work or accompanied documentation or any portion of it. The product and accompanied documentation may not be sublicensed, sold, leased, rented, lent, or given away to another person or entity.
Permitted Uses include the following .
Electronic publications including website design.
User interface design and code based environments.
Print publications and physical products.
Advertising and promotional materials.
Corporate identity documents, and letterhead (used as design elements).
Broadcast and theatrical exhibitions.
Video, film, or television broadcasts (used as design elements).
To decorate your home, your office or any public place.
Create digital products for you clients.
You can use our PSD Layouts to create real websites. ( you can sell your websites to your clients )
You can use our vectors, icons on your artwork, and then you can sell (your artwork).
Licensee may alter, crop, manipulate and create derivative works of the Licensed Material.
Licensee's rights to the Licensed Material are worldwide.
Keywords: stock photos, icon, background, pattern, theme, gradient, bundlestorm, bundle, vector, button, infographic, texture, photo, tools, photoshop actions, web design, creative, designer, royalty-free.