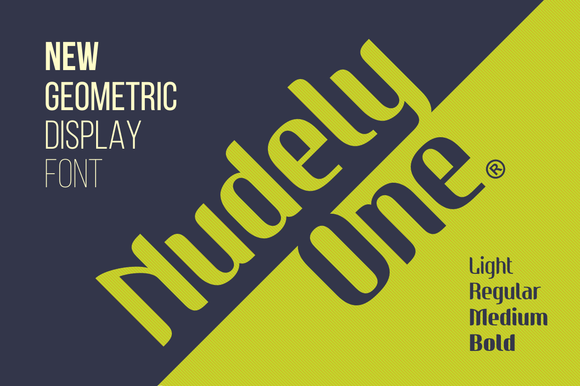 More Screenshots →
Font >> Sans Serif - Nudely 8 Fonts 35104
by Vast @ CreativeMarket
File Size: 1.45 MB; Vector: Yes; Web Font: Yes.
Hello.
However this product is a geometric display font. The Nudely font family at this time have 8 weights.
1. Nudely Light One
2. Nudely Regular One
3. Nudely Medium One
4. Nudely Bold One
5. Nudely Light Duo
6. Nudely Regular Duo
7. Nudely Medium Duo
8. Nudely Bold Duo
All the fonts is available in Opentype and Truetype, so you will have 16 fonts.
The Nudely Duo is optional of the Nudely One font, you can see the most striking difference anathomy at the 'shoulder' and arch of stem in the letters A G M Q S W a b d g h m n p q r u w 5 7.
Every fonts have cahracter sets Uppercaps, Smallcaps, Numerals, Punctuations, Fractions, Currency, Ligatures, Discretionary Ligatures, and Diacritical Marks (Foreign Accents).
Support languages: Basic Latin, Western European, Central European, Euro, Catalan, Baltic, Turkish, Pan African Latin, Dutch, Afrikaans, etc.
The ligatures and discretionary ligatures is: fb, ff, fh, fi, fj, ffi, fk, fl, ffl, ft, fu, fv, fw, fx, fy, fti, ti, tj, tf, tfi, tt, tti, tu, tv, tw, ty.
Please Note: You can access the discretionary ligatures only use the program which support with Opentype features like as Adobe photoshop and Adobe illustrator.
Please do not be glued on the examples, but fell free and wild to experiment with this font anywhere that you think looks great, this fonts is adaptable for various purpose. Enjoy it.
Thanks.
Best Regards,
M Fairuzulhaq
aka Ve
Semarang - Indonesia
Keywords: nudely, one, duo, geometric, fairuzulhaq, vast, display, font, vastagurly, clean, funky, cool, sans, modern, natural, smooth, leaf, green, tech, independent.