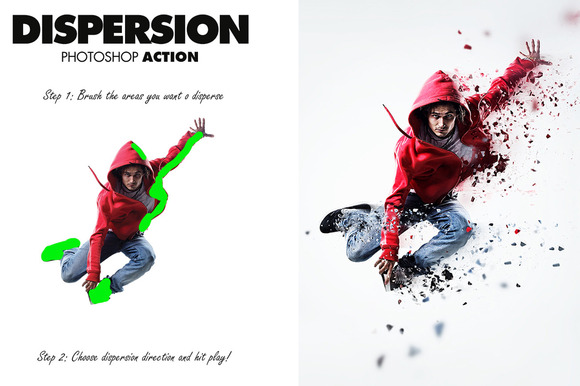 More Screenshots →
Add-on >> Action - Dispersion Photoshop Action 231740
by sevenstyles @ CreativeMarket
File Size: 18.61 KB; Requirements: Adobe CS1+.
https://www.youtube.com/watch?v=M2-4xIfe4rI&feature=youtu.be
Watch the above video tutorial for a demonstration on how to use the action. The video is very important to watch if you plan on downloading the action.
Dispersion Photoshop Action
This action will break apart pieces of your photo and shoot them into a direction of your choice. Do not spend lots of time trying to create this effect manually, get it done in seconds with only a few clicks.
You simply brush in the areas that you want to disperse and play the action! You can choose from Up, Down, Left or Right directions to shoot the broken pieces off into. Creating such an advanced effect has never been this simple and fun.
TIP: Create lots more parts by duplicating layers! Simply select a layer and hit ˇ®Ctrl+j' to quickly duplicate it. You can even duplicate the entire ˇ®Parts' folder by selecting the folder and hitting ˇ®Ctrl+j'. You can then move the entire folder around. You can also scale the parts by selecting a layer and hitting ˇ®Ctrl+t' ¨C then use the bounding box handles to scale it up or down!
Other recommended dispersion effects
Sandstorm Photoshop Action
Dispersion 2 Photoshop Action
The action has been tested and working on Photoshop (English versions) CS3,CS4,CS5,CS6,CC. The action will only work on the English versions of Photoshop. If you are using another language, you can follow this technique to change from your native language to English. You can then change it back after you have finished running the action.
Photos in the preview image have been graded with Photo Master
Photo credits.
https://www.flickr.com/photos/pokerbrit/9178506637/ https://www.flickr.com/photos/gfreeman23/13958653933/
Tips & Support
If you need assistance with this action or any others, please visit the support page here. This page covers FAQ, general knowledge about the actions and ways you could make money with them.
Combine actions
If you own multiple actions, have you thought about stacking the effects to build even more advanced designs? Below there are over 40 actions to choose from ¨C this is where you can get really creative!
How do I combine actions?
Run the first action on your photo.
Once you are happy with the design, save your image out.
Now re-open your image and run another action!
You can then use the 2nd actions layer flexibility to further customize the design. You can follow this process and stack effects to build incredibly detailed designs with very little work.
Keywords: action, atn, blast, break, burst, disperse, dispersion, effect, explode, explosion, look, low poly, parts, photo, photography, photoshop, professional, shatter, style.