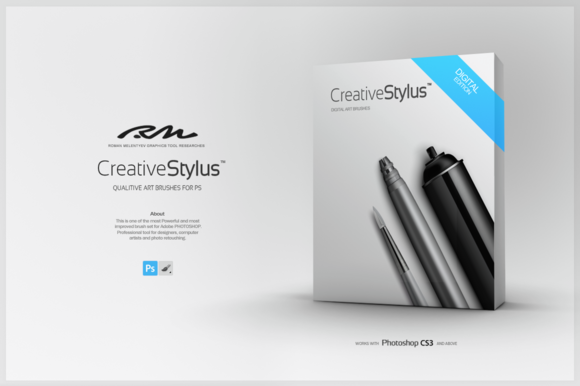 More Screenshots →
Add-on >> Brushe - RM Creative Stylus DE 15631
by Roman Melentyev @ CreativeMarket
File Size: 45.27 MB; Requirements: Adobe CS3+.
RM Creative STYLUS? PRO Digital Edition for Photoshop CS3+
(Note : Please keep in mind this is Lite version containing digital brushes set from our 2 in 1 bundle.
https://creativemarket.com/RainbowWings/13632-RM-Creative-Stylus-2-in-1)
New revolutional brush replacement for default photoshop brushes. We had combined all our experience of professional artists and digital technologies experience to let you draw directly in Photoshop CS3 and above Series with fantstic quality.
Utilization.
- Airbrushing & Softbrushing & Inking
- Photo retouching
- Painting with stylus with digital technique.
What is inside.
About hundred brush presets in several packs.
Digital Airbrush set (*.abr file).
Very powerful pack for digital painting design and retouching brush collection with dynamic effects based on pressure and other stylus parameters. The most clean digital istrument for today allows you get at the top photorealistic shading for your artwoorks.
Digital Ink set (*.abr file).
Very powerful pack of hard stroking in Comic style illustrations with sweet effect of ink internal cross-flow. Nice instrument to design Tatoos, Logos designing, and Ink styled illustrations. Although You will love this instrument also for its smoothing line techinique wich automaticaly adds great curved details when sketching forms for vector tracing.
Digital Washdrawing set (*.abr file) NEW*
This collection extend your arsenal with cleanest washdrawing watercolor like brushes. This is cleanest version for digital art allows you draw with very nice "one press = one drop" technique. This mean folowing: When you press and hold stylus you draw inside like in one "waterdrop" (its is very common with very wet watercolor brush) and then use stylus pressure inside "drop" to control pigment concentration. Then, when enough, you pick up stylus.
New stylus touch - makes new washdrawing "drop" wich will overlay above prevous "drops". And so on. This tecnique is excelent to make fast stylish shading for concept art & digital paintig.
Additional Effects (*.abr files).
The real diamond in this pack are Fantastic "Photo blur" smudge brush preset instrument allow you to make revolutional in digital art extra clean smoothing. The "photoblur" allows you fast to blur custom local area with stylus. The radius of blur will depends pressure value! Very clean result and very easy in use. Reducing noise, making diffused effects, cleaning up roughness and "brush stroke" artifacts! Beautiful easy tool both for photo retouching and digital painting interstroke smoothing.
Features of this art pack.
First of all its not just clean look for strokes, but also maximum possible comfort and intuitive hand adaptation like you feel with real qualitive art tools. You do not need no additional software for sketching and you can work inside powerful photoshop 16 bit color depth engine.
Its not a dream.
Power up you photoshop now! An you will say thanks for this choice again and again in different situations in a long time forward.
Draw all you want in PS.. now!
Keywords: brush, brushes, airbrush, photoshop.